i apologize in advance for the haphazard fashion of my note taking. there is a good deal of imformation there....just in it's own unique order.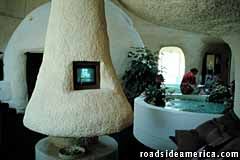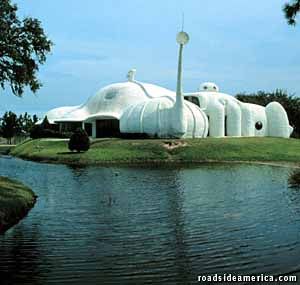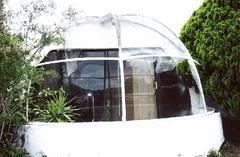 wet polyurethane foam sprayed over gigantic balloons to form the frame of this low-cost, energy-efficient structure. As J. Thomas Gussel, proponent of foam construction for the layman explained, "It's like turning over a Styrofoam cup and living in it

Designed by architect Roy Mason in the early Eighties

could be assembled in three days.

Another thing of interest. The creator (Bob Masters)and architect (Roy Mason) published a book in 1983 called "Xanadu: The computerized house of Tomorrow and How It Can Be Yours TODAY!" I found the book used on Amazon(around $10), in great condition. Parts of the book text are a bit cheezy, but it gives a wonderful insite on how Xanadu came about and the theories behind it. There are also a few beautiful color pictures of the Xanadu that was built in the Wisconsin Dells, which has since been demolished.

They were created by inflating large, walk-through balloons and spraying them with foam. After the foam hardened, doors and windows were cut out, and fireproofing and paint applied.

Roy Mason an true pioneer of the integrated home controls industry was killed, murdered actually in Washington. Roy was the principal architect of one of the first integrated homes Xanadu. It was featured tourist stop near Orlando in the early 1980's.

Roy was the first Executive Director of the Home Autmation Association. He will be missed.

The life and work of Washington Architect and Designer Roy Mason will be honored at a Memorial Service on Wednesday, 17 July at 6pm at the Washington Hilton (Georgetown Room) in Washington DC.

The service is planned in conjunction with the annual "Future Vision" conference of the World Future Society, which Mason served as architecture editor for many years.

Mason was known for his innovative freeform foam buildings such as "Xanadu - House of the Future" in Orland FL, and the "Mushroom House" in Bethesda, MD. He pioneered the concept of the "smart house" that adjusts itself to its occupants needs.

Examples of Mason's work, including blueprints, sketches, and photos will be on display in the Exhibit hall throughout the conference, which
runs from 15-18 July. For more information call the World Future Society at 301-656-8274.

Anyone wishing to speak at the service or loan materials for the exhibit may call M.J. Vilardi at 202-337-3340.

4800 W Irlo Bronson Memorial Hwy Kissimmee, FL 34746-5334

Xanadu-Foam House of Tomorrow
PO Box 422 , Wisconsin Dells, WI 53965
608-254-6096

An air balloon is used as a mold and the layer of 20cm polyurethane form is fabricated.

An air balloon extracts the air after fabrication and is correcting husks by handmade business outside polyurethane form. This form is not as outside husks and it serves also both as interior finish and thermal insulation.

He wanted to try out the slide from the upstairs kid's room

>>it looks like it needs to have a "brow" formed over each exterior window & door opening. The whole thing could then be re-coated with that insulating spray foam that contractors coat commercial poultry house roofs with to get that gleaming white hard coat that would cover any flaws or repair work. House of the future notwithstanding, the R-Value of this thing must be unsurpassed, and Environmentalists (the non-screwy kind) who often receive undue deference on county boards, etc. really dig R-Values, as well as the idea of keeping this thing out of the landfill. There might also be a local yokel in the general vicinity of the Xanadu who would fancy seeing the structure restored, and who also happens to own some nearby property. Maybe this is the direction to go in. Warren Thomas, Gainesville, FL

The Sedona, Arizona "Xanadu" is (or was until recently?) a religious commune. Their web page is here:

http://www.now.net/temple/

You will be amazed at the first Dome you enter! It has a towering height of 30 feet. In this dome a spiral staircase takes you up to a 500 sq. ft. open area loft. The "Great Room Dome" is your next surprise, a very spacious room with a height of 25 ft., 3 skylights, a sunken sitting and lounging area and a beautiful red rock indoor fountain. There is also a private guest bedroom and full bath off of the "Great Room Dome". From the "Great Room Dome" you can either go left into the "Formal Sunken Dining Room Dome" or to the right into the "Master Bedroom Dome Suite". The Master Bedroom suite consists of 3 connecting domes. Two bedrooms and a beautifully designed "Master bathroom Dome". This unique master bath has a walk-in glass block shower, a Jacuzzi spa bathtub and a 6 ft. portal-like window looking out into a courtyard with a fountain and beautiful gardens. Another surprise awaits you as you enter the second bedroom. Not only is there a 6 foot round skylight above, but a 10 foot round "Champaign glass shaped bed" built-in directly underneath it! Perfect for viewing spectacular starlit Sedona skies! Next, you enter into the "Entertainment Dome" with state of the art surround sound, giant screen TV, Laser Disc, and Stereo equipment. "The Kitchen, Formal Dining and Home Office Domes" are so unique; you won't ever want to leave this one of a kind home! Xanadu is also networked throughout for Computers and Internet access.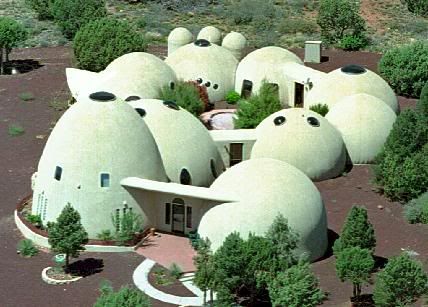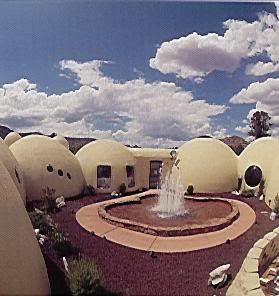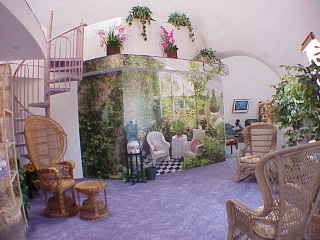 "How-to Book: Building foam dome houses. Shows how-to design/build, including price estimates. Send $9.95 + $3.99 SH to Xanadu c/o Ken Johnson 100 Arch Dr. Sedona AZ 86351. Also have 8 beautiful photos of "Xanadu, House of the Future." Add $3 for photos."

This address is 2.46 miles from Sedona Xanadu, and Google also finds Ken Johnson as giving his address as that of Sedona Xanadu in 1998-1999. Perhaps he was the previous owner who based his home on Florida Xanadu?

Finally, I don't know if it is related (it is quite a stretch), but there's a Dream Homes Inc. run by a Ken (Kenneth) W. Johnson in Mobile, Alabama. It was at http://www.dreamhms.com/ from March 2001 to December 2003. Their contact numbers were phone: (251) 476-7235 fax: (251) 476-7248 in 2003; their whois record lists (334) 476-7235 fax: (663) 476-7248.